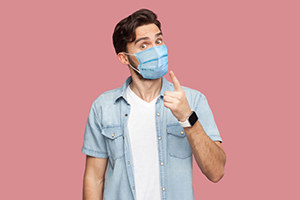 2021-may
How to Battle Bad Breath Under Your Face Mask
While face mask protocols have become an important part of public health and safety in the past year, you may have begun to notice something not so pleasant if you find yourself wearing one for hours on end-bad breath.
To help minimi[z]e stinky breath under your mask, make sure you are:
• Drinking enough water to help maintain proper saliva flow. Dry mouth is a common culprit of bad breath.
• Using mouthwash with antibacterial ingredients.
• Breathing through your nose.
• Maintaining your regular visits with us. We understand it may have been difficult to make time for us this past year, but we're ready to welcome you back whenever you please.
How to Properly Take Care of Your Toothbrush
This might sound pretty straight forward. But here are some helpful tips you may not have heard of before when it comes to taking proper care of your toothbrush.
Don't use too much pressure when brushing – A lot of people think to get a deep clean and get all the plaque off, you need to brush really hard. However, this is harmful to your enamel and gums. Not to mention, your toothbrush bristles will also suffer and start to fray and fall out of place.
Rinse after use – Always rinse with warm, running water after brushing.
Store it upright to air dry – Make sure you let your toothbrush air dry upright after rinsing.
Replace it every 3 months – Not only can bacteria build-up, but the bristles become less effective over time and move or fall out of place.