About Implantdontics Cosmetic and Implant Dentistry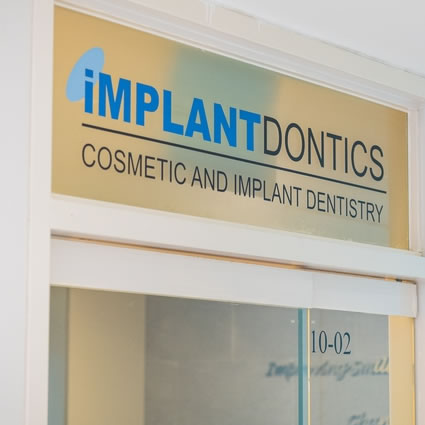 Our Service
At Implantdontics, we pride ourselves on being honest and experts at what we do. Our patients' experience is our main focus when you visit us. You will feel comfortable and relaxed each time you visit. All your questions and concerns will be answered to the best of our abilities.
You will be provided with honest opinions, accurate diagnoses, and treatment options with your best interests at heart. Most of all, you will get clear and accurate cost estimates with no hidden charges.
We are big believers in doing it right and doing it once! When you see us for your dental needs, you will be treated with the utmost care and precision so that you can enjoy a healthy smile again. Equipped with advanced diagnostic and treatment technology, we strive to provide the highest level of quality dentistry and help our patients keep their teeth for life.
Our Team
Our team comprises internationally-trained specialists with vast clinical experiences. This is critical especially for patients with complex issues that require a multi-disciplinary approach. Each specialist brings along tremendous expertise and most of all, each specialist performs treatment ONLY in his specialty. This is to ensure our patients are being treated by the best person for the job.
We also have a full-time in-house ceramist to support our prosthodontist with the simplest to the most complex ceramic prostheses, something which very few clinics in Singapore have.
Our team approach therefore ensures our patients' treatments are well-planned, coordinated and sequenced so as to achieve optimal results in the shortest possible time and most importantly, at the lowest cost.
Our expertise covers the full range of dental treatment from the basic to the most complex.
Modern Technology
Our practice features some of the most modern dental technology in the industry such as:
Intraoral cameras for imaging and diagnosis
Digital radiography including OPG and Cone Beam Computerised Tomography (CBCT)
CEREC intra-oral scanner and MCXL miller for single-visit crowns
Sirona InEos Industrial-class desktop scanner
Sirona inLab MCX5 industrial-class 5-axis miller
3D printer
Our fully-equipped industrial-class ceramic lab is located within the clinic premises and is capable of making 100% of all our ceramic restorations. This capability ensures our patients receive highly precise dental ceramics with accuracies of as little as 2 microns and in the shortest possible time.
Educating Our Patients
Throughout your visit with us, we are passionate about educating patients and communicating with you the entire way. Your comfort is our number one priority. So we want to get to know you and help you feel relaxed when you see us. The entire team is known for their genuine care and gentle touch when it comes to dentistry.
Book Your Consultation Today
Start your healthy smile journey with our Orchard team. We offer a range of general and specialist dentistry to cater for your whole family.

About Implantdontics Cosmetic and Implant Dentistry | Whatsapp: +65 8394 0827 |
+65 6737 7022