Complex Prosthodontic Treatment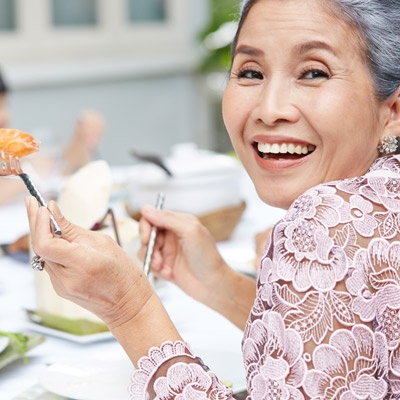 Full mouth reconstructions are complex situations that require expert care. When it comes to restoring multiple damaged, missing or diseased teeth, multiple factors must be considered. Each tooth in your smile affects the ones around it, as well as the surrounding soft tissue and bony structures.
Without a full set of healthy teeth, it's common to experience self-esteem issues, changes in your diet, headaches and even an impact on your social life.
What Should I Expect?
Every full mouth reconstruction case is unique. There is no "one size fits all" about the process. Your customised treatment plan will consist of an extensive examination, involved planning process and discussion of appropriate care techniques.
For our patients with extensive rehabilitation needs, treatments are often phased in stages. It's not uncommon for visits to be spaced out across a year or two, depending on your needs and level of specialist involvement.
You play an integral role in the planning process. The better we understand your goals, priorities and concerns, the harder we can work to meet them.
If you have special medical needs, dental anxiety or complex oral health issues, you've come to the right place. We'll do everything possible to restore the function and appearance of your smile for the better. You deserve to feel confident about the way your teeth look.
Depending on what your smile has been through, we may recommend a combination of various therapies, such as

Dental implants
Porcelain inlays
Porcelain veneers
Ceramic crowns and bridges
Soft tissue therapy
Teeth whitening
Bone grafting
Root canal therapy
To ensure optimal aesthetics and performance, we have our own in-house lab and ceramist. On-site support ensures the best outcome and time frame for our patients.
Aggressive dental damage or severe wear can make your teeth look short or flat. Ultimately, the changes in your biting and chewing movements can also contribute to TMJ pain. Having a provider restore your smile to optimal health involves multiple biting relationships, soft tissue function and an extremely detailed planning process.
Perhaps you need to complete treatment in stages, be it restoring old crowns, replacing aged bridges, extracting teeth or installing dental implants. Working with an expert-such as a prosthodontist-ensures a skilled and comprehensive approach. The last thing you want to do is have the process done piecemeal.
If you're building a home, you want a contractor to oversee the entire experience. Yes, you could hire a plumber, roofer, etc. But having an experienced professional who can bring everything together in the proper order and design is more efficient and effective. It takes a team but it also requires the input of a skilled professional to make sure everything comes together.
It's not an easy process to restore multiple teeth at one time. Prosthodontic specialists are experts in multi-tooth rehabilitation and full mouth reconstruction. Many factors must be considered. Everything from your saliva flow and hygiene habits to the way your teeth bite together and existing dental restorations come into play.
We often oversee the involvement of other specialists, such as oral surgeons, periodontists, orthodontists and endodontists. Your complex rehabilitation experience is a team project.
Get a Professional Opinion
For complex prosthodontics treatment, trust your smile to a team of specialists. Contact us today to request a no-pressure consultation to learn more.

Complex Prosthodontic Treatment in Orchard, Singapore | Whatsapp: +65 8394 0827 | +65 6737 7022