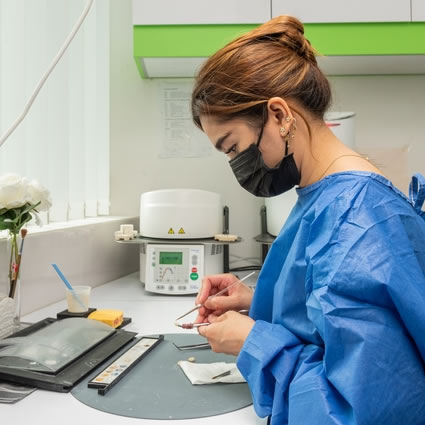 Dental Technology
Aside from providing multiple dental specialties under one roof, our practice features some of the best technology in the dental industry, such as:
Durr Vista Intraoral cameras used for patient images, education and helping in diagnoses
Carl Zeiss Pico microscope for microscopic dentistry and precise root canal treatment
Evotech 3D printer
Investing in these resources has allowed us to provide
Higher accuracy of care
On-site ceramic lab services
Advanced digital imaging
Partnerships with area dentists
More efficient therapies
Our office is equipped with a Cone Beam Computerised Tomography (CBCT) machine. This advanced imaging equipment allows us to take 3D x-ray images of your entire oral anatomy.
We're able to record the images for them then digitally transfer it back to the referring provider. If your dentist does not have CBCT equipment but you require a scan, we can provide this service as needed.
In order to cater to the high volume of prosthodontic services we provide, we incorporated a fully-equipped in-house ceramic lab. With a full-time ceramist and onsite CADCAM equipment, we create beautifully custom-made prostheses 100% in-house. With complete control over the entire process of production using world-class high precision CNC equipment, we ensure that your ceramic teeth are made to the highest quality standards and esthetics that mimic natural teeth in esthetics, form, function and comfort.
Unable to travel? Looking for a second opinion? Considering a trip to our office but want to explore your options first? We're happy to provide a limited virtual consultation to discuss your concerns, needs and review what might be available to help. Although a virtual consultation is no replacement for a traditional exam (and our ability to assess your dental needs is limited) it can help you determine if we're the right fit for your smile's needs!
Experience the Difference
We offer exceptional skill combined with state-of-the-art dental technology. See how our specialists can expedite your care while ensuring the best experience possible. Contact us today!

Dental Technology in Orchard, Singapore | Whatsapp: +65 8394 0827 | +65 6737 7022