Teeth Whitening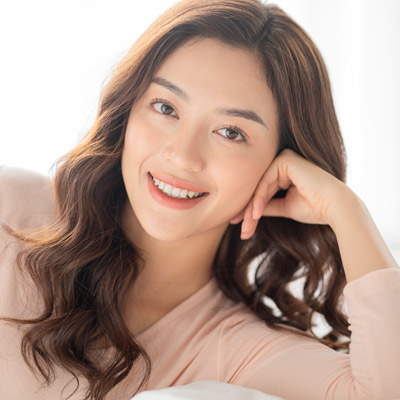 Our teeth naturally absorb stain over time. Especially if our lifestyles include coffee drinking, red wine, tea or tobacco products. In years past, certain types of medications were known to cause dental staining. Professional teeth whitening can brighten your smile whether your enamel is naturally dark or you've accumulated discolouration throughout the years.
Types of Teeth Whitening Treatments
Depending on your needs and preferences, we offer two types of whitening to choose from: take-home and in-office. Both provide similar results. Although we can't guarantee the extent of whitening that will take place, everyone's teeth improve regardless of which type of whitening option they choose.
Take-Home Opalescence Whitening Trays
We'll take a mould of your teeth and create a set of custom trays. Since the tray is snuggly-fitted to your teeth, it holds the whitening gel against it more evenly. Depending on your enamel colour, we recommend whitening each day for a week or up to a month. Some gels can also be worn overnight.
Take-home professional kits work more effectively than products sold in stores. Since the gel is highly concentrated, you can see better whitening in less time.
ZOOM! Whitening provides same-day results. The whitening procedure takes about two hours from start to finish and is completed here in our practice. If you're short on time, an in-office whitening treatment can help your teeth look their best in the least time possible.
During your appointment we'll apply the gel directly to each tooth in your "smile zone." A bright light activates the whitening process to oxidise deep staining. The gel is rinsed away and re-applied as needed until we achieve desired results.
To keep your smile white, we recommend touching up every three months. If you drink a lot of dark liquids you may need touch up more frequently. Most people wear a set of trays for two nights in a row every three months to maintain their results. Without maintenance, your teeth will revert to their original colour within a year or two.
We highly recommend touching up your whitening after each scale and clean, when your teeth are their cleanest (the gel can penetrate your enamel more effectively.)
Teeth whitening is an excellent option for our patients looking for a quick, non-invasive way to enhance their smile's appearance. Affordable whitening kits provide an effective smile makeover for people with relatively aligned, healthy teeth. Investing in your smile's appearance could help you feel more comfortable around others, especially if you're self-conscious about the way your teeth look.
Before you whiten, plan a consultation with one of our providers. We'll evaluate your teeth and gums to make sure they're healthy enough for whitening. If you have existing restorations in your front teeth, those areas will not respond to the whitening agents as much as others, so they may need to be updated. Active tooth decay or gum disease will need to be treated prior to bleaching your teeth.
We'll select an optimal gel concentration that limits sensitivity while maximising whitening results. Although some people report occasionally sensitivity, most of our patients can whiten comfortably with little complications.
Say Hello to a Brighter Smile
Request your professional teeth whitening treatment today!

Teeth Whitening in Orchard, Singapore | Whatsapp: +65 8394 0827 | +65 6737 7022