General Dentistry
Protecting and preserving your oral health starts with getting routine general dentistry services. These include checkups, scale and cleans.
By coming in every six months for checkups you can keep your teeth healthy for a longer period. Because we naturally accumulate buildup and stain between twice-yearly appointments, a scale and polish is the best way to help your smile look and feel its best.
What Your Checkup Includes
When you come in for your initial checkup, we'll sit down to review your concerns.
After a complete evaluation of each of your teeth, we'll thoroughly clean and polish each one.
Then we'll complete our charting to assess changes in your teeth and restorations between appointments.
Identifying Small Concerns Before They Become Big Problems
Another benefit of coming in for checkups is we can identify any early signs of problems before they advance into more serious and potentially costlier treatments. To prevent complex oral diseases like periodontitis, we recommend preventative cleans at least twice a year.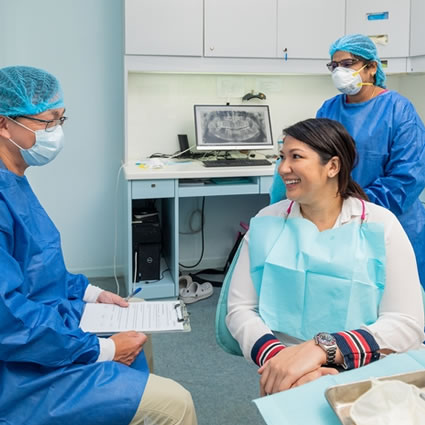 Why Is Dental Hygiene Vital to Your Overall Health?
Dental hygiene is important not only to your oral health but also to your overall health. That's because if you don't treat oral conditions they can negatively impact other parts of your body.
In addition to visiting us twice annually, it's crucial to maintain optimal oral hygiene habits at home. These include brushing your teeth twice a day for at least two minutes each time.
Don't forget to floss! Brushing alone can't reach all of the spaces between your teeth. That's why you should floss once a day.
By maintaining good oral hygiene habits, you will decrease the risk of bad bacteria forming in your mouth.
Book an Appointment
By taking a preventative approach to your oral health now, you can enjoy a bright, healthy and problem-free smile in the future. Contact us today to schedule a convenient appointment for general dentistry!

General Dentistry in Orchard, Singapore | Whatsapp: +65 8394 0827 | +65 6737 7022