Crowns and Bridges
When a tooth is too damaged to repair with a smaller filling or inlay, there are still ways to preserve it. A crown repairs teeth that have structural damage beyond that of mild to moderate decay. Or if the tooth is missing altogether, we can use a set of fused crowns to serve as a bridge to fill in the gap.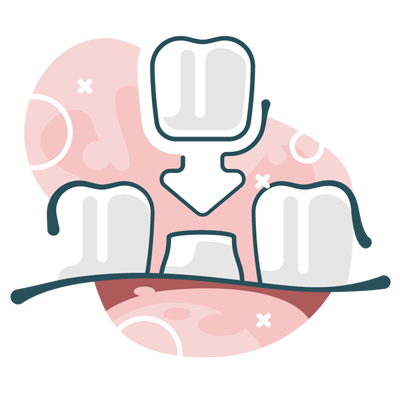 What Are Crowns?
Crowns are like small helmets that we put over a tooth to protect it. We recommend crowns if there is significant decay or the tooth received root canal treatment. Without one, the tooth would fracture from everyday use.
Dental crowns restore both the shape and function of broken teeth. If it's badly worn, decayed or fractured from an accident, we can reconstruct your smile with porcelain crowns.
Are you replacing a single tooth with a dental implant? A crown will be placed over the implant abutment to restore the visible tooth portion above the gums.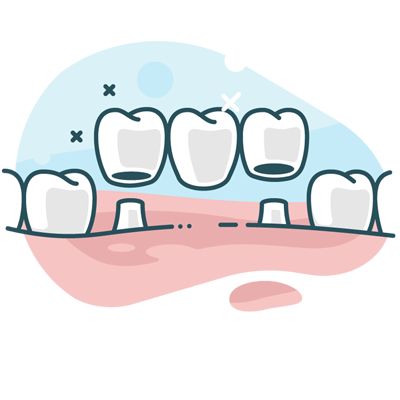 Dental Bridges
Bridges are a traditional technique used for replacing missing teeth. Before the development of dental implants, bridges were extremely popular. Like a bridge that spans across a river, dental bridges support a restoration in the place of a missing tooth. The two teeth on either side suspend an artificial "tooth" between them.
A typical bridge can fill in the space of 1-2 missing teeth.
Although bridges function well, they require altering the healthy structure of the teeth that support them. If those teeth require a crown, it's usually not a problem. But if the teeth are untouched and healthy, a dental implant is usually the better option.
There are various modern materials available. Today's ceramics are more durable and aesthetic than ever. Some types of porcelains are better for heavy-pressure areas in the back of the mouth. Others serve more of a cosmetic purpose for teeth that are visible when you smile. The goal is to
Restore and preserve your smile
Regain full function in that area
Enhance aesthetics (when appropriate)
Repair tooth shape
Ultimately, we want your tooth to look better than ever while retaining a natural appearance.
Since we have an on-site lab and in-house ceramist, we custom design and make each of our crowns and bridges. This expedited process improves fit, aesthetics and reduces your overall treatment time.
We only recommend crowns and bridges when there are no other less-invasive treatments available. Since the supporting teeth must be cut down for the crown or bridge to fit over it, these restorations are considered more invasive than fillings, inlays or dental implants. You'll want to discuss the pros and cons with our specialists to determine the best solution for your circumstances.
During your exam, we'll discuss your concerns and thoroughly assess each of your involved teeth. Based on our findings, we'll suggest the best option(s) for those areas. It may be that a crown or bridge will be appropriate. If not, we'll let you know what other restorations you have to choose from. Then we'll draft a treatment plan that outlines each appropriate step.
Request an Exam Today
For custom porcelain crowns and bridges, book a consultation with our state-of-the-art specialty practice.

Crowns and Bridges in Orchard, Singapore | Whatsapp: +65 8394 0827 | +65 6737 7022