New Patients at Implantdontics Cosmetic and Implant Dentistry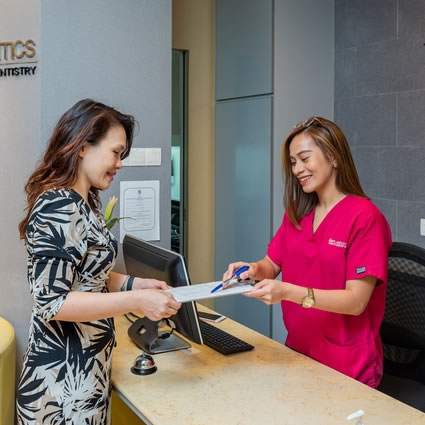 At Implantdontics Cosmetic and Implant Dentistry, we welcome patients of all ages to our modern dental practice. From the moment you walk in, you will be greeted by our friendly staff with a smile and made to feel comfortable and well cared for. Our team will ask you to complete a registration form either at the desk or on our comfy sofa.
We also have a water station, free wifi and Netflix in reception, so you can relax while you wait for your appointment. Our dentists usually run on time and our staff will collect you from the reception waiting area at the time of your appointment.
Your First Appointment
At your first visit, we will start with understanding your concerns followed by a detailed check of your mouth, teeth and gums. We may take photographs and radiographs to aid in our diagnoses. If a cleaning is required, it may also be done at the same time.
Our dentist will then explain in detail the findings by showing you the images and radiographs, discuss treatment options and costs. You will have plenty of time to ask questions and clarify any doubt. You will also be given a detailed written treatment plan to take home with you so that you can review them at any time.
If desired, treatment may commence at the first visit or scheduled for the next visit.
What If I Have an Emergency?
If you're in severe pain or have a dental emergency, contact us straightaway. Issues like acute pulpitis often flare up in the middle of the night when you're trying to sleep (due to the pressure changes when you lay down). Throbbing pain due to nerve damage may not respond well to over-the-counter painkillers. It's best to visit a hospital with a dentist on staff or contact us as quickly as possible.
Book Your First Appointment Today!
Contact our friendly team to book your new patient appointment. We will take good care of you in our relaxed, modern practice. Our team offers the latest techniques and technology to support your dental care. We offer progressive payment options, so you can pay as you go. We look forward to caring for you soon.

New Patients at Implantdontics Cosmetic and Implant Dentistry | Whatsapp: +65 8394 0827 | +65 6737 7022